Born as the legitimate granddaughter of the queen of Albion, Esther was brought to Istvan shortly after her birth in order to save her from assassins. She is the daughter of the late Prince Gilbert who was assassinated just after she was born. She was saved by Edward White, under the alias Edward Blanchett. He took her to an orphanage in Istvan where she was raised to be a nun by Bishop Laura Vitez, who loved Esther like her own daughter.
This Esther cosplay is simply fantastic. All the work that went into the costume is astonishing and the picture itself sets a very solemn mood.
madcrecha
did a great job capturing
Astarohime's
amazing Esther. The hardest part was picking the best photo because Astarohime gave us so many pictures to work with!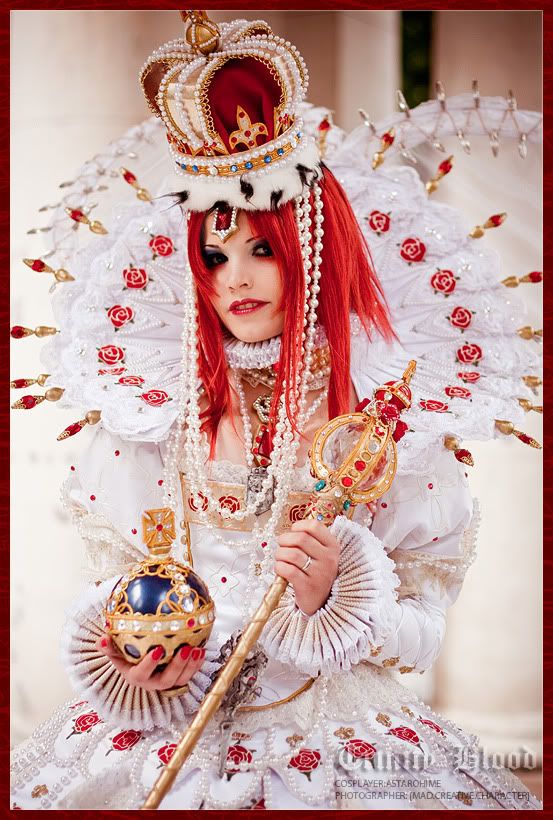 This picture shows off a lot of the finer details absolutely fantastically. To quote the
dA page
...
* Astarohime drew the pattern herself.
* All the gems are swarovski crystals.
* There are more than 20,000 pearls on the dress.
* The crowns and flowers on the dress are actually metal.
* The costume was made in 2 months!
Hats off to you, Astarohime and madcrecha - you work well together and the result is breathtaking!
Disagree? Think you have a better Esther cosplayer? Want to suggest a cosplayer for tomorrow's post? Leave me a comment or drop me an e-mail!